Welcome to Francine's Spa on Wall Street



Facials by Francine is nestled in the small town of Rockaway Borough, specializing in facials and skin care services. We offer the very best in personal care, beauty and comfort with the latest in skin care therapies and products to reverse the effects of aging and make your skin look youthful and smooth. Feel younger and look your best with our skin care solutions! The Spa was specifically created to offer an atmosphere of warmth and comfort. It is a small boutique Spa that caters to individuals and not the masses. The beautiful and warm decor, essential oil aromas, and soothing colors give the Spa an at home and tranquil feeling. Receive one-on-one personalized treatment and attention during your visit, when leaving you will feel refreshed and never rushed.


So ... come and experience a Touch of Heaven on Earth
A specialist and pioneer in the field of phyto-aromatic skincare since the 1950's, Yon-Ka through its face, body and sun skincare collections gives your skin the most precious that plants can provide: the enlivening essential oils charged with energy from the sun's rays.

In the heart of Yon-Ka, a pure and natural aromatic composition of lavender, cypress, rosemary, thyme and geranium essential oils: "the 5 Quintessence E.O.*" This exclusive formula is then blended with a wealth of plant extracts from all over the world.

With their subtle aromas, the essential oils combined with plant, fruit and marine extracts act to balance, soothe, revive and rejuvenate. Each ingredient has a specific role for your skin: the fruit acids moisturize and enhance the complexion, the vitamins combat free radicals, the seaweed remineralize and the plant oils nourish and soften.

Each product is created, manufactured and tested by the Laboratories MULTALER. Each product you buy, comes with the guarantee of a genuine, high quality formulation that delivers instant and long lasting results. Yon-Ka products are sold by skin care professionals the world over to offer the most effective personalized Yon-Ka products and beauty treatments that combine pleasure and freshness, visible results and a renewed sense of well-being.


In addition, the following amenities and conveniences are offered to make your time with us more enjoyable:
Ample Parking
Convenient Location
Robes
Snacks
Beverages
Free Consultations
Membership Programs

Click on the image link below to go to
www.thelittlebrownscapularcoloringbook.com
where you can read about and purchase my new children's book "The
little
Brown Scapular Coloring Book"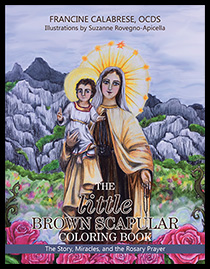 On Tue. and Thurs. if an appointment is not booked at 6pm the spa will close at 6pm. On Wed. Fri. and Sat., if an appointment is not booked at 4pm the spa will close at 4pm. Please call if these times do not suit your needs and I will always try and accommodate you.