Expect great values when you visit us!
Purchase a series of 2 treatments and receive the 3rd $20.00 off
Purchase a series of 3 treatments and receive the 4th 1/2 price
Purchase a series of 5 Body Massages and get 2 FREE
Valentine's Special
Introducing Microcurrent
Microcurrent is a non-invasive treatment designed to re-educate and exercise facial muscles using a small form of energy delivered in microamps, which mimics the human bodies biological electrical system to heal itself.
This treatment will lift heavy eyelids, smooth crows feet, wrinkles, reduce puffiness under the eyes and give an overall brilliance to the skin.
Introductory Offer $135.00
Buy 5 and get the 6th FREE
Expires April 15, 2020
Special Offers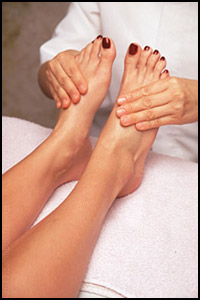 Special Offer
We are offering a very special opportunity to our valued guests. Act now, as this offer will only be available for a limited time. Contact us for special offer details.
Kickin' flip-flops off!
Get your PIGGIES ready for the summer.
Purchase Yonka Peel to remove unwanted calluses and receive $10.00 off your next pedicure.
Offer good until April 30, 2020